If you ask a US military fighter about the best rifle scopes he has used in his career, Acog's name will surely pop up on his list. It is one of the most trusted battle scopes used by the US military in their ventures worldwide. Advanced Combat Optical Gunsight or Acog is a fixed power scope initially designed for the US military. Trijicon developed it in 1987. TA01 was the first model that Trijicon launched in that year.
After that, it was designated for use with MS carabine by US Special Operations Command. After these initial models, a variety of different models of ACOG have been launched by the company. The standard ACOG has 4X magnification, but other models have different magnifications. Over the years, not just military personnel but also casual shooters worldwide have also started using it.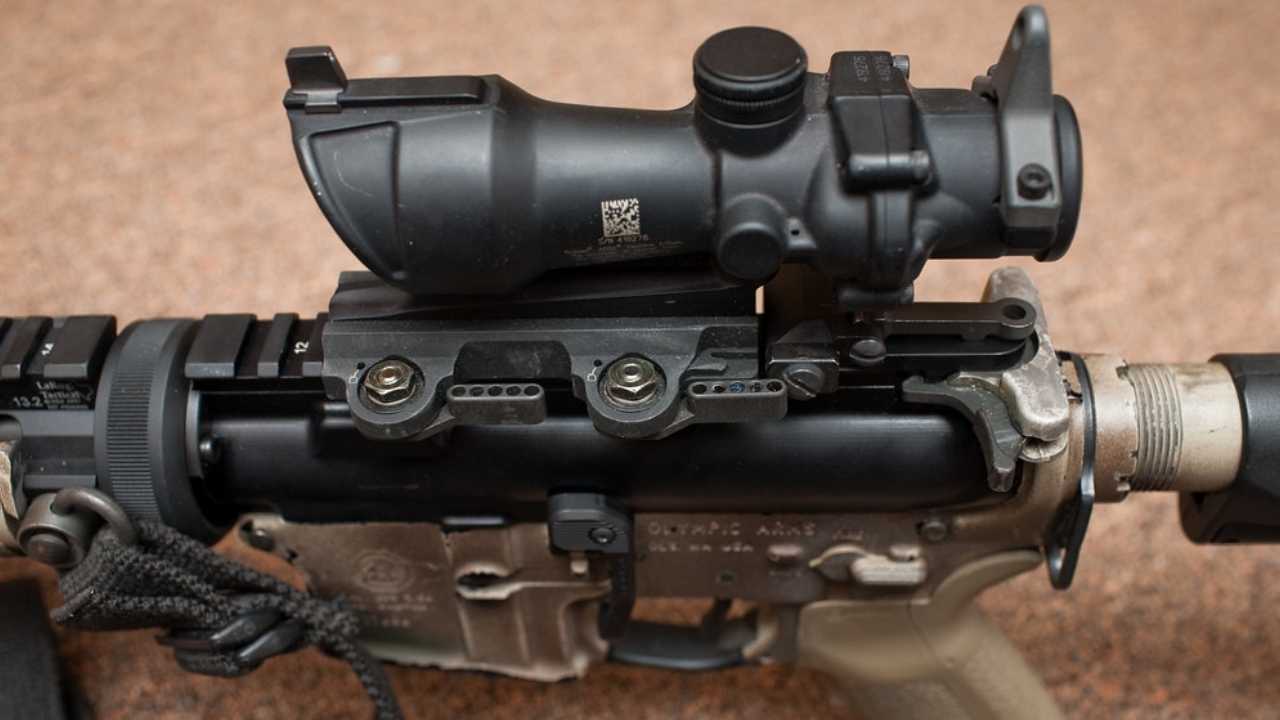 Features of an ACOG
Following are the features of an Acog scope series that make it distinctive and trusted by most shooters, specifically the US military.
Fixed Power
The power of an Acog scope is fixed. There are two types of scopes when it comes to power: fixed power scopes and variable power scopes. What fixed power means is that the magnification of the scope is fixed to a certain number and cannot be zoomed in for further magnification. For example, the magnification of a standard Acog is 4X. The power of the optic is fixed, but Acog optics are present in different ranges of power: from 1.5X up to 6X.
Durability
Due to its massive use in the US military, there should be no doubt about the durability of an Acog scope. An Acog is durable enough to pass the tests of the military. Its toughness and durability have been tested time and again on the battlefield. It is the durability due to which Acog is one of the most trusted scopes in the military. Now the question that arises is what makes an Acog durable. As Acog was explicitly designed for the US military, no compromise has been made on its durability.
The housing of the Acog scope is made of aluminum alloy, which makes it shockproof. Nitrogen is used to prevent fogging. Also, the Acog scope is extremely waterproof. It is expected to be waterproof up to 10 meters. All these features make the Acog scope series durable and reliable.
Battery-free Illuminated reticle
The reticle of an Acog scope is illuminated. But it does not require a battery for its illumination. It uses tritium for illuminating its reticle. The tritium-created battery lasts for 10 to 15 years. Also, some models of Acog have a fiber optic cable that absorbs whatever light is in its surroundings and illuminates the reticle.
The battery-less illuminated reticle also works well during nighttime and low light conditions. The use of fiber optics and tritium is the biggest thing that separates an Acog from other optics as it allows Acog to be battery-free. This makes an Acog scope always ready. Fighters do not need to worry about battery recharge. They can pick up the gun, zero it, and start using it.
Light Weight
ACOG scopes are designed to be lightweight. This is done with their colorful design. Also, there is no battery compartment in ACOG scopes as they do not need battery power to operate. These features make Acog lightweight and compact. An example of this is TA01 which is 9oz in weight. Weight is not a concern for a casual shooter, but it is a concern for military men.
Works well in low light Conditions
ACOG scopes have a large objective lens. This lens captures more light and hence works well in low-light conditions. It is a luxury that most variable optics don't have.
Bullet Drop Compensator
Most models of Acog have a bullet drop compensator. This aids in determining how far the target is and helps and helps in accuracy at long ranges.
Bindon Aiming Concept
Bindon Aiming Concept takes its name after the founder of Trijicon Glyn Bindon, who came up with the Bindon Aiming Concept. According to this concept, the shooter should keep both eyes open while hitting a target. In this way, one eye can entirely focus on the illuminated reticle target, and the other can focus on the target and the background. This helps to get more situational awareness during shooting.
Easily adjustable Turrets
The windage and elevation turrets of an Acog scope are easily adjustable. Moreover, the newer model turrets do not even need a screw. They can be adjusted by the finger.
High-Quality Glass
Acog scope uses the highest quality glass and a design that can capture maximum light. This gives a clear view of the target and its surrounding.
Wide Field of View
ACOG scopes have a wide field of view. A wide field of view allows one to have more situational awareness.
Limitations of Acog Scopes
Here are some limitations of ACOG scopes.
Eye Relief
One persistent complaint about the standard Acog scope series is eye relief. Eye relief on a regular four by 32 ACOG is only 1 inch and a half, but the newer Acog models have extended eye relief. For example, the eye relief of TA 11 is 2.4 inches.
High Price
One more concern about the Acog scope series is that they are pricey. But the quality and efficiency of ACOG scopes make it worth the price.
Wrapping up
It's difficult to say that an Acog is the best battle rifle scope because several factors are involved in the fighting. But what Acog scopes are best for is their simplicity and durability. The battery-less feature is essential because it's always working. It gives an edge in combat. Due to the shock resistance, water, and fog resistance, Acog scopes can bear years of abuse.
Frequently Asked questions
What are the best-selling models of the ACOG scope series?
Some of the best-selling ACOGs are the 4×32 Dual Illuminated and Horseshoe Dot 223.
Can ACOG scopes adjust brightness automatically?
Yes, the ACOG scopes have automatic adjustment brightness settings. For Example, There are six adjustable brightness settings in 3.5×35 LED and 4×32 LED.