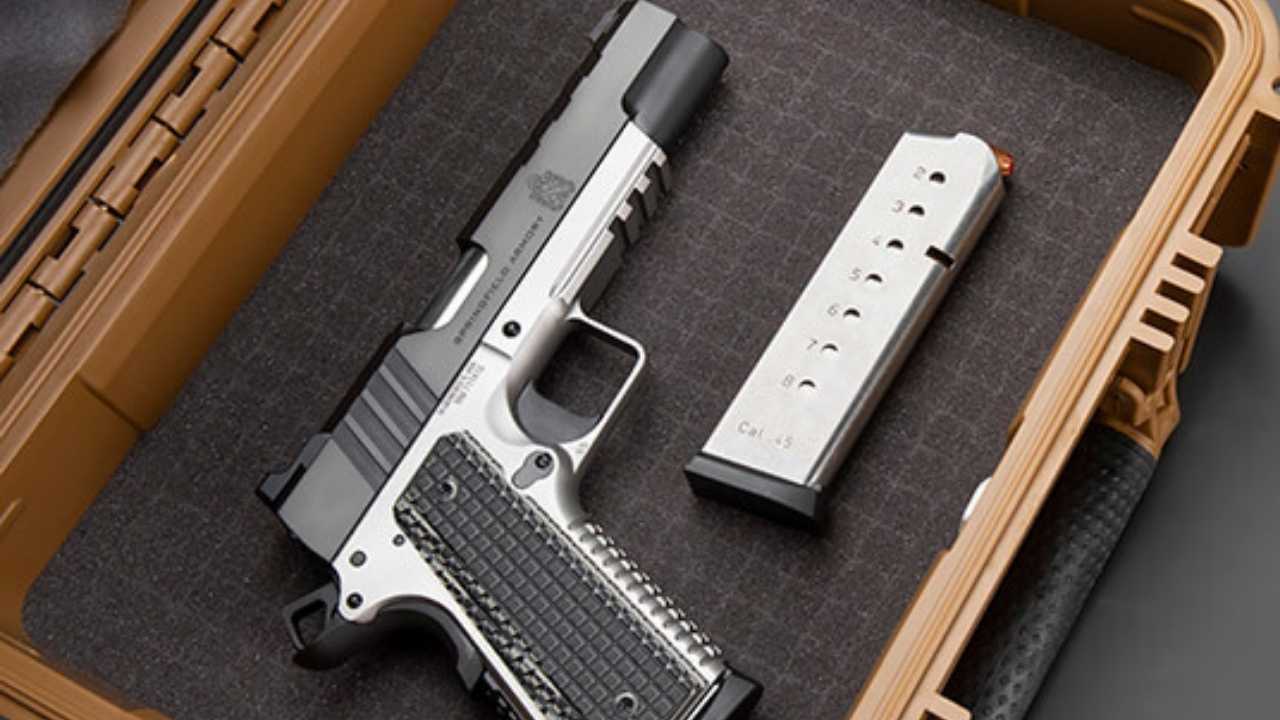 The Springfield Armory 1911 Emissary is a bold, capable addition to the family of pistols. Built on forged steel in its barrel, slide, and frame with a two-tone finish that offers custom styling while reducing recoil.s
Built on the durable foundation in its barrel, slide, and frame, The Emissary, offers up a powerful pistol that is both graceful as well as aggressive – making it ideal for self-defense or competitive shooting alike.
The design has been influenced by our knowledge gained from customer feedback over many years, combining their suggestions into one gun. Tri Top cuts give this handsome piece some unique style. At the same time, heavy profile bull barrels deliver maximum accuracy, reducing felt recoil.
When I first picked up a 1911 pistol, something about the heft of it in my hands felt right. It was only natural to think about how much time that early gunsmith spent getting every detail just perfect for our beloved guns. The steel frame is like an old friend to me now, and picking one up always reminds me why this type of weapon has been so popular over the years.
The Emissary is a sleek forward-sliding holster with a Tri-Top cut slide. Its features include lightning grooves that will allow you to get your gun out quickly. Alongside depressions in the top strap for light diffusion and glare reduction and Springfield Armory's U Dot sights are perfect for those looking to provide quick indexing during defensive situations. While still being able to see tritium/luminescent front sight even when it's dark outside thanks to its black matte finish.
Springfield Armory Emissary 1911 Featured Specifications
Barrel: 5″
Caliber: .45 ACP
Weight: 40 oz.
Overall Length: 8.41″
Sights: U Dot
Grips: G 10 ThinLine
Action: Single, Semi-Automatic
Finish: Two-tone matte finish
Capacity: 8+1
Number of Magazines included: 2
Retail: $$
As a traditionalist when it comes to firearms, I'm always on the lookout for something different. When Springfield Armory announced their newest model – The Emissary in .45 ACP with bull barrel and rail dustcover- my heart jumped. It was exactly what I wanted, weighty enough that recoil would be manageable but not too front-heavy like some others; powerful without being overpowering or uncontrollable at close range; reliable yet comfortable because of its size and ergonomics. I felt as though this gun could do no wrong!
Final words
The Emissary is a pistol of true character. This 1911-style handgun carries the legacy and respect that has been built up over decades among gun enthusiasts alike while also being ready for defense in any situation with its factory features.