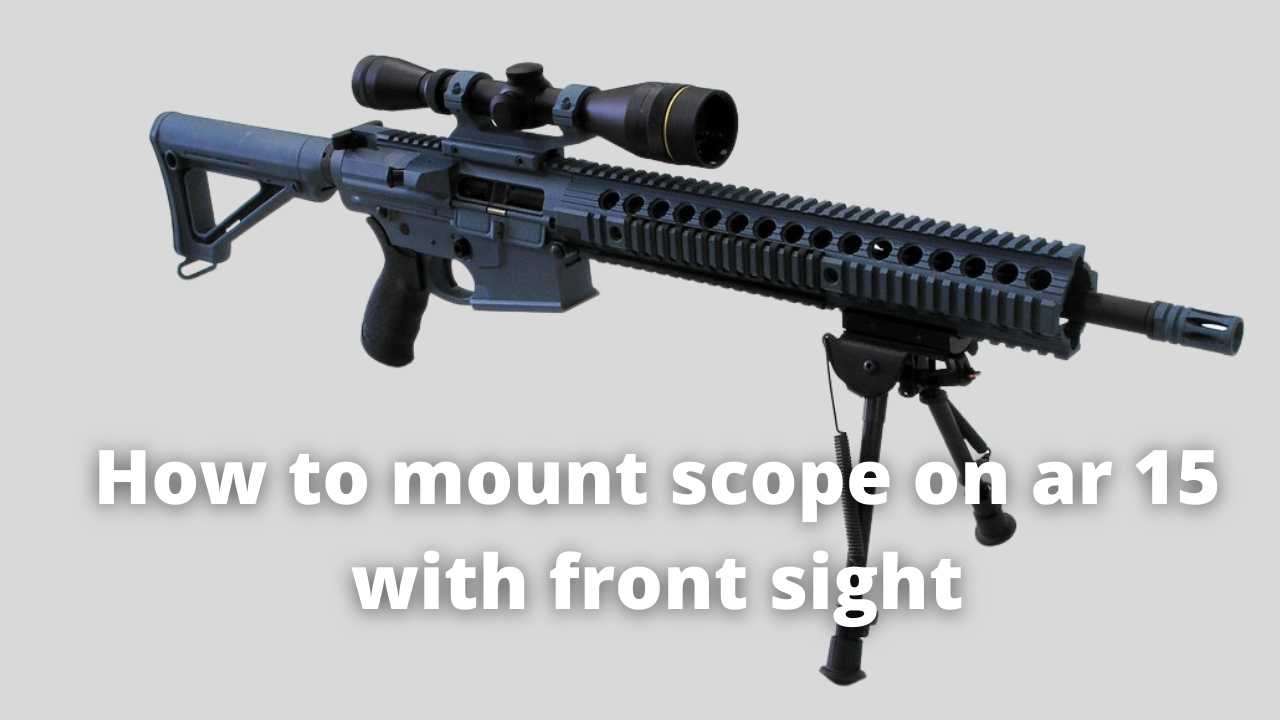 Learning how to mount a scope on AR 15 with Front Sight may as well be the second most intelligent thing you do after buying a AR 15.
And no. We're not kidding.
AR 15 is by far amongst the most popular models of lightweight rifles. Back when it was released in 1956 by ArmaLite, it happened to be offering a brand new firing velocity. The speed and accuracy took the masses by surprise, scaling up its value amongst hunters and rifle enthusiasts.
The latter already comes with a fixed front sight that is truly a masterpiece. It's both durable and accurate. But to improvise its performance for long-range shooting, even more, one can always equip it with a scope.
And here in this guide that is exactly what we are going to explore!
Tools You Will Need
Before we head onto the complete installation process, let's evaluate the perquisites. You will need to have the following tools before you begin and basic know-how of tool handling.
You will need a torque wrench to fix the scope mount to the AR-15 platform. Note that too much torque may ruin the scope while too little torque may keep the scope hanging loose, which is, of course, dangerous and unreliable. Hence, a good-performing toque wrench screwdriver is highly necessary. It will get the job done. But for your ease, you can get an electric version.
A screwdriver bit is a tool you can fit in a drilling tool to acquire a particular type of contour. Although most scopes come with their respective set of bits, they are not often as precise and accurate as you would need them to be. So, it's best to buy a separate, dedicated one.
You will need a bubble level to ensure accuracy. It will help you align the scope with the rifle. For even greater precision, you can use two miniature bubble levels; one for the rifle, and one for the scope. Or perhaps, a digital level.
Most importantly, you will need a scope which you will be mounting on your AR15. Now, there are several types of scopes to browse and choose from. Your options include variable scopes, long-range units, night-vision models, tactical scopes, red-dot scopes, etc. Pick one that best matches your use of AR-15.
Apart from the technical tools, you will also require gun cleaning patches and rubbing alcohol. It will assist you in catering to the accumulated grease.
Again, for greater accuracy and safety, you can use a gun vise. Fundamentally, a gun vise is a mechanical stand that holds your rifle or gun firmly in an upright position. It protects the sensitive parts from developing scratches. Plus, it enables smoother cleaning and mounting.
Know that it may cost you around $75 or more, and it is not essential for the mounting process. So, only spend on it if you've got enough margin in your budget. And don't get confused. It is the same thing as a shooting rest.
You can either purchase these tools and parts separately from reputable online stores or physical hardware shops. These should be conveniently available on all. Plus, some stores even sell complete installation kits for scope mounting. You can consider that too. It will save you both time and money as you won't have to search for each tool individually.
Mounting Scope on AR 15 with Front Sight
Now, coming to the actual process, here are the four easy steps that you need to follow:
Step One: Ready Your AR-15 for Scope Mounting
We're doing this complex process in four simple steps, but that doesn't mean we will skip on any of the essentials. Firstly, you've to rid your precious AR15 of all the unwelcomed dust and grease that's made a home out of it.
You can use gun cleaning patches and rubbing alcohol to clean the body gently. Avoid experimenting with other cleaning agents and rubbing the exterior roughly as it can cause scratches or damage the body.
Step Two: Position it Correctly
Once cleaned, now you need to position the rifle such that it doesn't move or wobble during the installation process. Our best recommendation would be to make use of a vice.
However, if you haven't got one, you can secure it on a table or a leveled surface. Also, ensure that the rifle is not loaded.
Step Three: Install the Scope
When all is in place, it's time to place the mount of the scope above the upper receiver. Bear in mind, placing the mount exactly on top of the upper receiver or free-floating rail may damage the gun's tube.
Now, tighten it with your torque wrench. If you're not sure about the torque level, then it's best to check the instructions manual that you received with the scope mount. The manual will specify a certain limit. Abide by it, as over-tightening can adversely impact the positioning of the scope later.
Next, place the scope atop the mount. Use the accompanying rings to secure it in place, i.e., position the rings on the upper surface of the scope mount and tighten them until you are sure that the scope wouldn't budge. It's best to follow the X-pattern when tightening the scope on the mount as it will maintain equal gaps on each side.
Step Four: Double-Check the Balance Level
Finish the job by confirming if the rifle and newly installed scope are all leveled or not. To do this, you need to place the bubble level on the flat part of the tube. But even before this, we'd recommend you to check if the reticle of your AR 15 has a perfectly vertical and horizontal alignment. Take your confirmation a step further and shoot once top test the scope. If it performs out of place, then readjust the scope.
The EndNote
Remember, AR-15 already has an easy and accurate profile, thanks to its front sight. The purpose of adding a scope is to cut down the amount of input required when taking a shot and add to its efficiency. The goal is to extend the range of effective shooting more than anything else.
So, invest ample time in the installation process, particularly in leveling your rifle and finding the best sight for your AR 15 with fixed front sight. Doing so will grant you with desired results for sure. Before we sign off, here's a short and sweet video tutorial about how to mount a scope on AR 15 with the front sight. It'll help you get an even better visualization and understanding of the process. Good luck!